Join together 
At Witchmount

Estate Winery


 
Say 'I Do' in the picturesque grounds of Witchmount Estate Winery as your wedding day backdrop, surrounded by gorgeous vineyards, quality food and award winning estate grown wines. 
White only 25 minutes from Melbourne's CBD and 15 Minutes from Melbourne Airport, the treelined grand entrance and acres and acres of vineyards will have you seeming like you've visiting a country destination.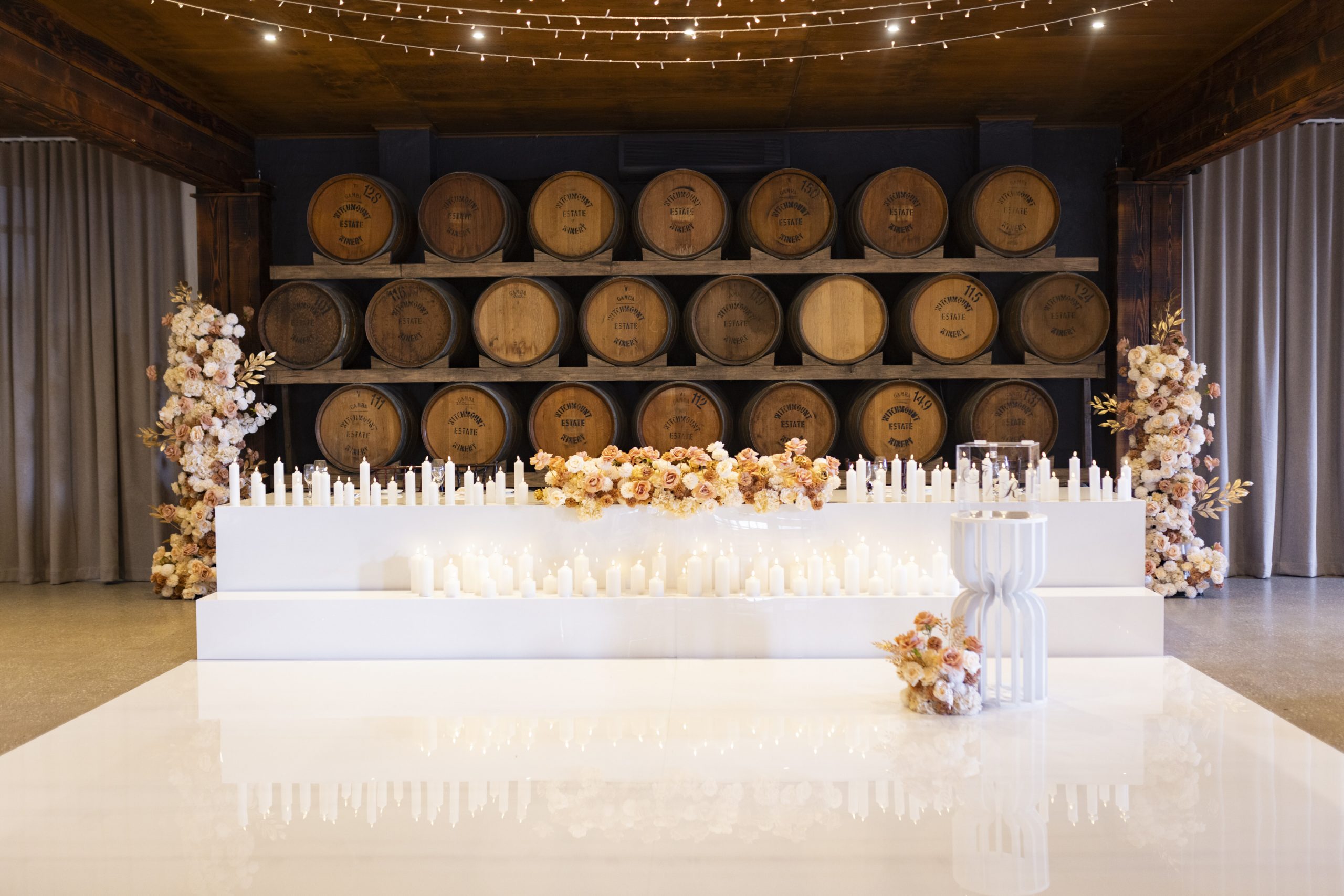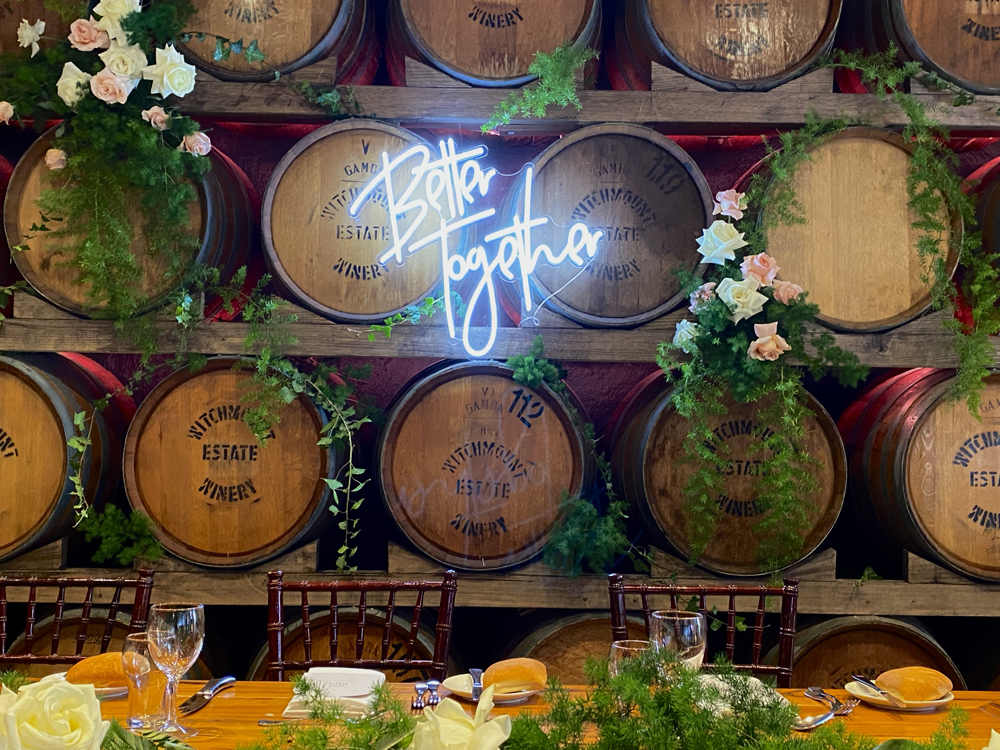 At Witchmount Estate we understand every couple is unique. Allow us help you create the wedding of your dreams.  Our expert wedding team will guide you through the planning process and ensure your day is exactly as you envisioned.
Witchmount Estate is a boutique wedding venue only 30 minutes from Melbourne. Our event spaces are fully heated and air conditioned and our landscaped and festoon lit outdoor lounge areas are perfect for pre-dinner drinks.
The Barrel Room is suitable for up to 330 guests in a cocktail setting or 290 seated, and The Harvest Room is suitable for 120 guests standing and 85 guests seated. In addition to our event spaces, tie the knot in one of our beautiful ceremony locations including the gazebo in The Barrel Room Courtyard, by the Lake or by the Vines. 
Make use of the numerous locations around the grounds to capture your photos. We invite you to book in for a tour to view the Estate and download a copy of our wedding information.
We'd love to take you on a personal tour of our gorgeous estate and showcase the many options on offer to bring your event to life. 
Image by the talented @maeganbrownmoments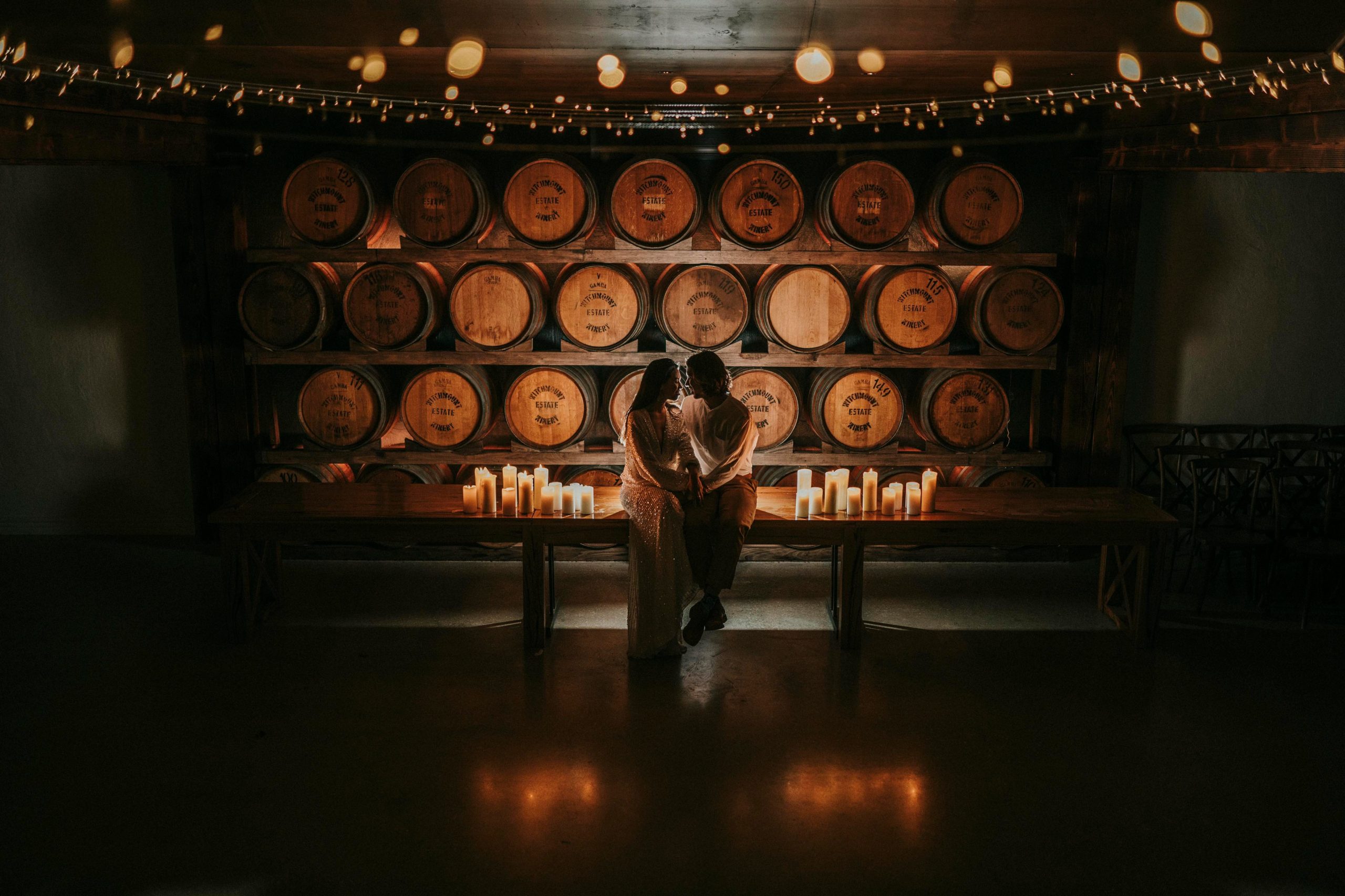 CAPACITY
COCKTAIL: 330

SIT DOWN: 290
The Barrel Room is our most popular space for weddings, with its industrial rustic feel, this space features gorgeous exposures polish concrete, floor and ceiling barrel wall and solid timber bridal table as its main focus points. 
CAPACITY
COCKTAIL: 120

SIT DOWN: 85
The Harvest Room is our gorgeous intimate space with vineyard views, festoon lit courtyards with the staircase as its main feature within the room. The clean white walls, dark floor boards and light timber ceiling brings the entire room together beautifully.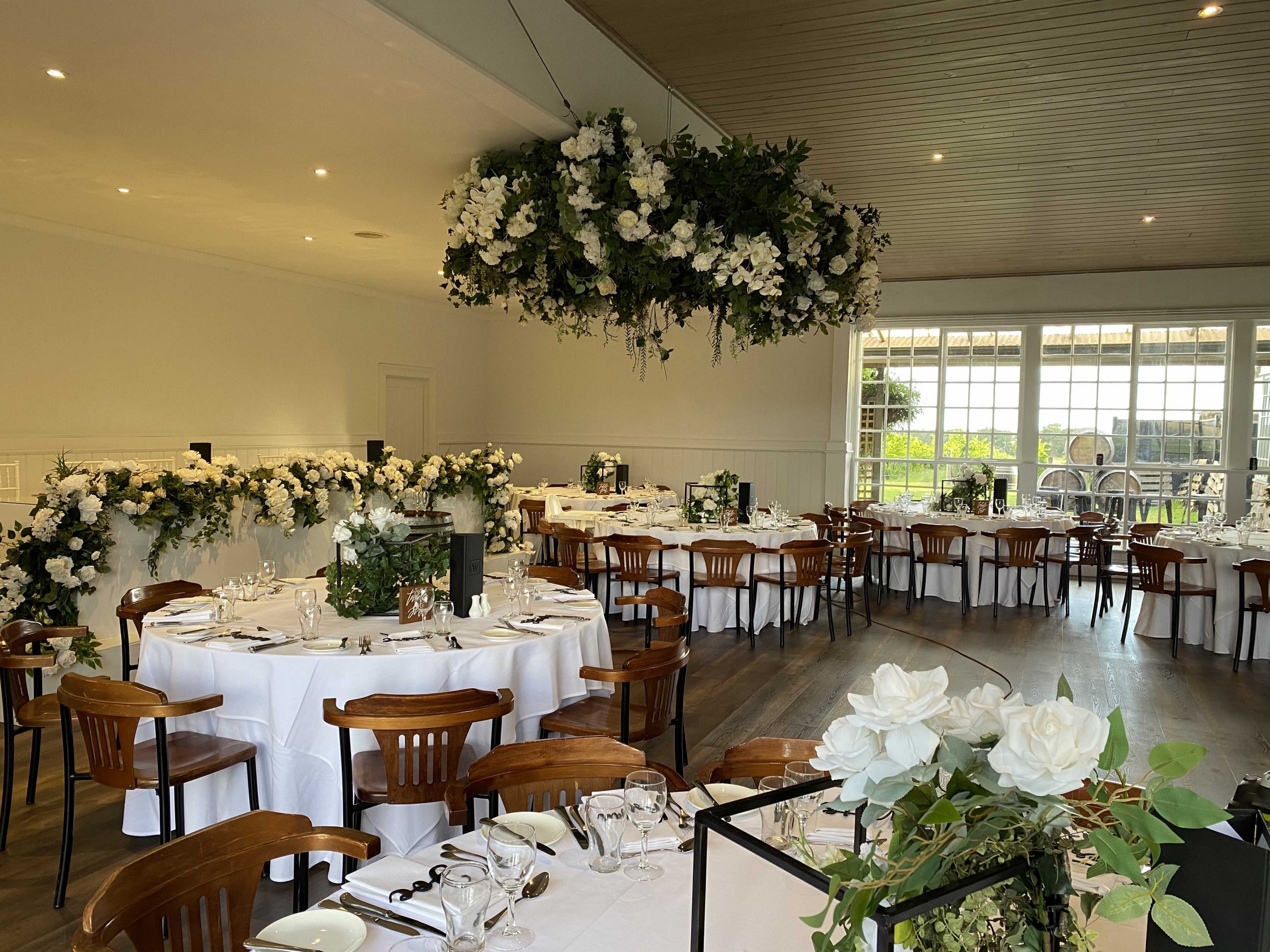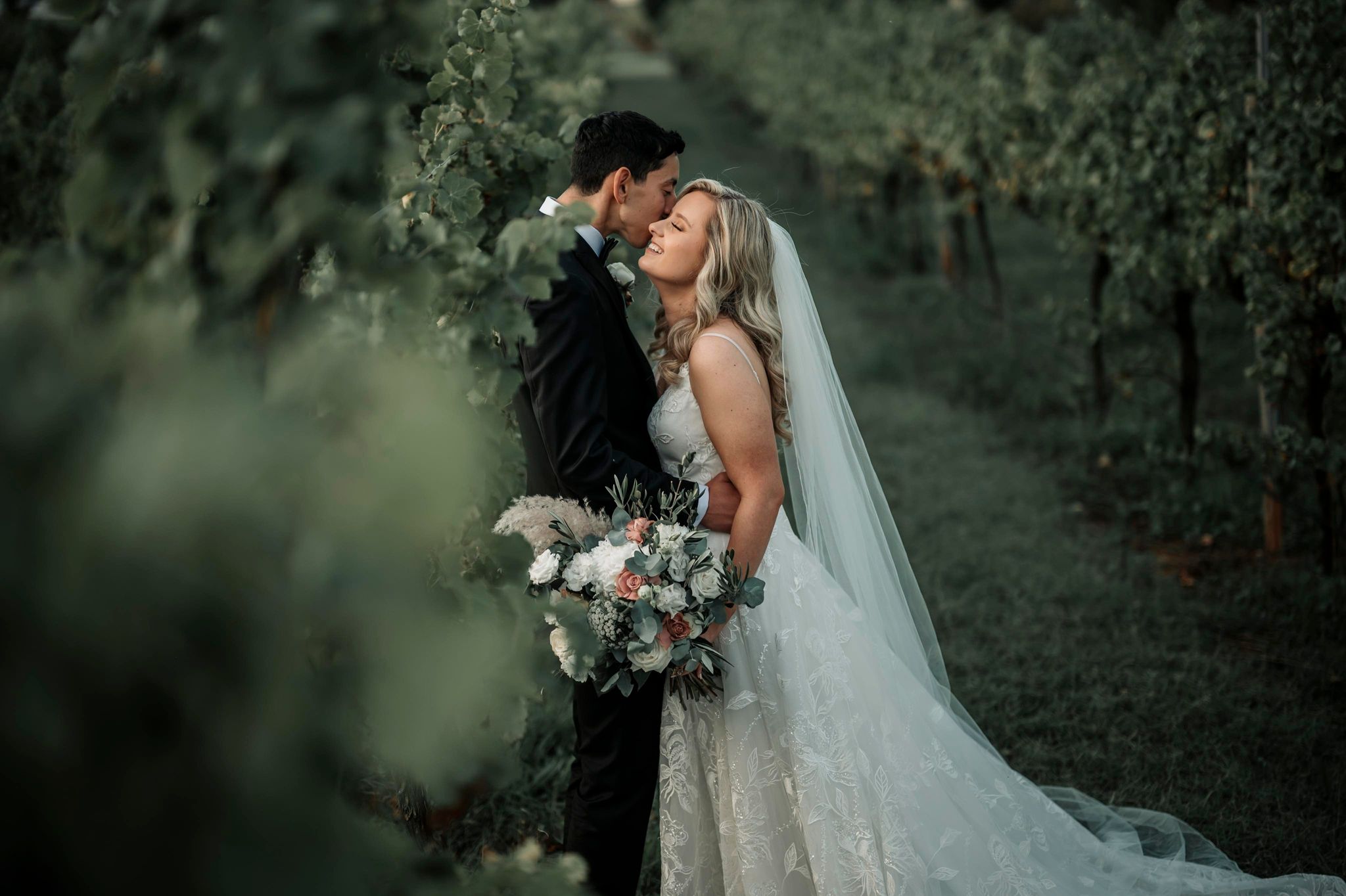 It is our passion to bring your wedding vision to life.
At Witchmount Estate, we offer exceptional hospitality and incredible food and drink all within a picturesque setting. We understand every couple is unique and our expert wedding and events team will guide you through the planning process to ensure your wedding day is exactly how you want it to be.
Established in 1991, Witchmount Estate has developed into a boutique wedding and events venue 30 minutes from Melbourne. Witchmount's event spaces have recently been modernised to ensure the utmost comfort for our guests. The Estate has been lovingly restored with all new interior design, landscaping and décor whilst maintaining its original, rustic charm. We offer a number of dedicated spaces suitable for both cocktail-style and sit down weddings. If you haven't already, please book a tour via our website to come and view the Estate for yourself. We look forward to welcoming you to Witchmount Estate.
Ceremony only, ceremony & reception or reception only
Whilst we can host your entire wedding celebration, from ceremony to reception, all on the one property at Witchmount Estate, some of our couples start their experience at Witchmount from Pre-Reception drinks and canapés into reception. 
Speak with our events team to find out more about hosting your event at Witchmount Estate
Tie the knot in one of our beautiful ceremony locations surrounded by your nearest and dearest…
Make use of the numerous locations around the grounds to capture your photos after the ceremony, while your guests enjoy drinks & canapés served in the outdoor lounge.
CEREMONY LOCATIONS
We have a number of picturesque locations to hold your ceremony.
Choose from:
• Our beautiful barrel

facade

 
• The outdoor lounge
• By the lake*
Weddings at Witchmount Estate Winery
Create memories of a lifetime at our beautiful winery. From festoon lit courtyards to gorgeous sunset opportunities. The photo opportunities are endless at Witchmount.
Our expert EVENTS team will guide you through the entire planning process and ensure your event exceeds your expectations.
Whether an elopement or an intimate wedding with just a handful of your closest family or friends, we have the perfect options to ensure your dream day is exactly what you envision and more. 
From the couple and two guests, to 20-40 of your closest friends and family, get in touch with our team to find out how your elopement or intimate wedding would come to life at Witchmount Winery. 
Tour our winery and estate
We'd love to take you on a personal tour of our gorgeous estate and showcase the many options on offer to bring your wedding to life. 
Witchmount
MENU OPTIONS
Discuss your ideas with our professional team to discover our flexible options to make your wedding day not only perfect but delicious.
Whatever menu you select, you can be sure our expert head chef's carefully curated menus will impress the even the most fussy palletts. Every meal is made with fresh and delicious ingredients, full of colour and personality.
stand-up
COCKTAIL STYLE
The Cocktail Event package includes 10 canapés with a range of both cool and hot options on offer with a range sure to accommodate to any and all taste buds.
Seated
ALTERNATE DROP
A more traditional catering option with your choice of two delicious alternating meals for your guests to receive along with shared sides to the centre of the tables. As with all our catering packages we have taken a traditional concept and added our own modern flare with plenty of mouth wateringly good options for you to choose from.
Seated
SHARING FEAST
The Feasting package of shared dishes is a banquet of amazing gourmet chef designed and cooked menu items to give you everything at the table in arms reach. The package includes roaming canapés as an introduction to a special catered event.
BOOK A VENUE TOUR
We'd love to showcase our venue and find out more details of your vision.
BOOK A TOUR
YOUR DAY, CREATED YOUR WAY